28
JUN 2017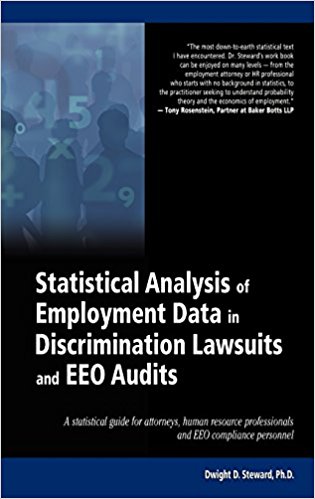 Dwight Steward, Principal Economist at EmployStats, will be a featured speaker at the upcoming employment law CLE in San Francisco on July 12, 2017.  The CLE will be taking place at the Bently Reserve in downtown San Francisco, CA, and will be discussing the recent California Equal Pay Act.
Dwight Steward, Ph.D., is the author of the book Statistical Analysis of Employment Data in Discrimination Lawsuits and EEO Audits.  The statistical guide for attorneys and human resource professionals provides managers and courts with empirical evidence that goes beyond anecdotes and stories.
The textbook presents the methodologies that are used in statistical employment data analyses.  The book uses a non-mathematical approach to develop the conceptual framework underlying employment data analyses, so that professionals starting with no background in statistics can easily use this book as a tool in their practice.
Visit www.CaliforniaEqualPay2017CLE.com to register to hear directly from Dwight Steward at the July 12th employment law CLE in San Francisco, CA.
Interested in purchasing Dwight Steward's statistical guide? Find it on Amazon at www.amazon.com/Statistical-Analysis-Employment-Discrimination-Lawsuits/dp/0615340504